Who we are

We are a niche advisory and outsourcing company in domain of banking and foreign exchange risk management. We started operations in 2011 and since then we have been helping SME corporate across India to reduce their overall finance cost and manage the currency risk on import- export transactions.
Our team is young and comprises of ex bankers; professionals from corporate finance, rating industry, treasury and FEMA compliance.  Our promoter before starting Edugains, have worked for 12 years in a bank and a corporate and have hands on knowledge of corporate finance and its inter linkages with FX markets. They hold MBA from IIM Ahmedabad.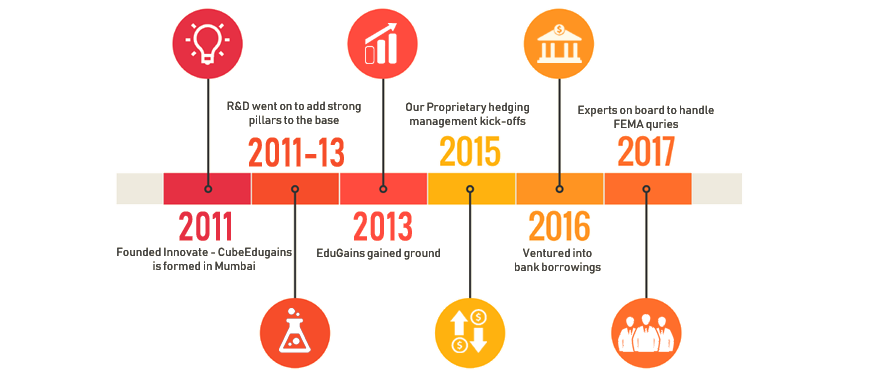 Who we serve

We specialize in working with SME corporates across sectors. Most of our clients are in range of Rs 20 cr to Rs 600 cr of sales. We understand the unique challenges faced by SMEs. Over a quick conversation with a prospective client, we can identify key issues that it would be facing in banking and FX management. This ability to connect well with SMEs, help us develop a solution which suits their immediate and long term business needs. Some of the sectors that we understand really well are –







Our approach to client engagement

We provide customised and personalised solution to client's business need. And we mean it!
For example, we know change of bank is difficult and therefore we have developed expertise to reduce overall finance cost from client's existing bank. In another example, we know that SMEs have limited collateral security to give. Our solution helps SME migrate from collateral based borrowing to cash flow based borrowing and this releases the collateral security. On FX front, we become like an outsourced treasury team for client and take care of every possible issue regarding currency markets- be it booking of best rate for a transaction; be it monitoring  currency fluctuation and deciding on
hedging
or deciding when to take USD loan and when to take INR loan.
What are main services of Edugains?
Our main
services
are – optimization of borrowing cost, FX risk management and FEMA compliance.
Is my information secured with edugains?
Yes, we sign an NDA with the clients. In addition, our IT systems are to check any leakage of information.
What is the size of clients have edugains handled in the past?
We managed clients with turnover ranging between Rs 20 cr to Rs 800 cr.
For how many years has Edugains been in business?
Edugains was founded in 2011
What is Edugains fee structure?
Edugains philosophy on fees it that client should save significantly more than what he pays us. We offer both fixed fee or a combination of both fixed fee and variable fee linked to savings that we deliver.
Before starting your services, we would like to see if your services are beneficial for us?
Yes, we do provide a free trial.
How is edugains different from other advisory companies?
We have unique expertise of optimizing costs without change of banks. We know change of bank is not easy for corporates.
How is edugains different from other advisory companies?
We have unique expertise of optimizing costs without change of banks. We know change of bank is not easy for corporates.
If we outsource our FX and banking service to edugains will the bank have a problem with that?
No, the bank will not have any problems. We would help improve the overall working experience with your bank by improving the processes.
How much documentation will be required for your free trial?
No documentation is required from our end for the free trial just a confirmation on the mail. However, we would need your past data for which some clients have preferred to sign an NDA.
How does Edugains book exchange rate on my behalf?
We never book rates independent of client. Client is always a part of the call with the bank or we advise client when to book on online portal of the bank.
What is Edugains process to get me better exchange rates?
Client shares exposure (Export/Import) with Edugains. We input it in our system and track market for better levels. As levels look favourable we call the bank with the client, negotiate the rates and execute the transaction.
Can Edugains audit my past transactions and identify my weak areas?
Yes. We have the capability to audit FX transactions with any bank for any currency and for any period in past. Our proprietary analytical tools can give a lot of insights and improvement areas.
Which all sector has edugains worked in?
We have worked with clients in Pharma, Shipping, Logistics, E-Commerce, Chemical, IT/ KPO, Engineering sector.
Subscribe to our market updates